Straight Yaki Blonde Lace Front Synthetic Wig LF701S
Photos From Our Customers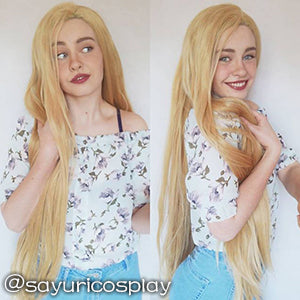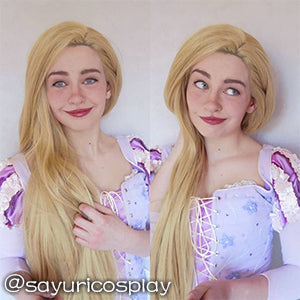 ?
Product
Style Code: LF701S
Color: Blonde
Cap Size: Head Circumference about 22" - 23"
Length: About 42"
Wig Type: Lace Front
Lace Type: High Quality Swiss Lace (1.5 inches)
Parting: Any Direction
Material: Synthetic Fiber
Heat Resistant: Up To 150C Heat Resistant By Heat Tools
Remarks
- Color that appears on your monitor could vary from the original color of the wig due to different monitor settings.
Gorgeous wig!!!
This wig took a long time to get to me (at no fault by the seller) but the wait was worth it!!! I had been working on a new Rapunzel dress and this wig arrived in time for a quick photo shoot. This wig photographs so well, I can't wait to schedule a professional shoot!
Rapunzel/Cornelia Hale
Definitely the best wig for Rapunzel and Cornelia Hale cosplay! I need only to cut the ears part since it's too long and I can't stand it >-
Rapunzel wig
Sur les photos, la perruque n'est pas stylisée car je venais de la recevoir ! J'ai hâte de faire mon cosplay de Raiponce ! Elle est très jolie, très longue et très belle ! Elle est bien fournie aussi ! Arrivée en 2 mois ! La suite sur mon Instagram @lily_hobbit 🥰
So long!
This is the perfect wig for Rapunzel! I love it because I can do it in the braid or just straight down! Super versatile for cosplay!
Great
I bought this wig for my Rapunzel cosplay, I'm really pleased with it. I thought it was gonne be longer tho! But it's really thick and natural looking.
One word: stunning
I've had this wig for a while now. THere is so much hair and it's so long! It's gorgeous quality and feels so soft! It doesn't tangle as fast as you'd expect with this length, I wouldn't advice wearing it without a braid or ponytail though, just as with real hair it will tangle. I couldn't be happer and look forwad to ordering some more matching wefts to make it even more rapunzel proof.